Skhadir
Strategic Business Management Includes Revenue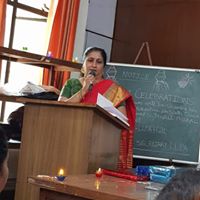 Cite.Co
is a repository of information created by your industry peers and experienced seniors sharing their experience and insights.
Join Us and help by adding your inputs. Contributions From Other Members Follow Below...

I am in a peculiar problem. One of our employee,who is very hard worker and intelligent but he is dishonest. I fail to understand, what to do with him. If I show him the door, I am going to loose a good worker. If I donít do , his co workers will take the things granted. As they are having a clue that he is on my radar.
Kindly advice.
Thanks & Regards,

Community Prime Sponsors
FactoHR.com
- Payroll Software with GPS Enabled Attendance, Travel, Performance Management, HRMS.
Talentedge.com
"Interactive Anywhere Learning". Executive courses from top reputed institutes like IIM, XLRI, MICA.

Good Day :) ... Well if you could try to check with the employee on what happened and how far he seems to be dishonest may be you could arrive to a decision...
Ofcourse as a HR personnel, we need to think on 360 degrees before making a decision...
But if found employee to be dishonest.. after discussion with his manager from operations... you have no other choice but to show him the door but ofcourse while speaking with operations try to check what were his contributions, is there someone as a back up for him to replace his roles on a timely manner... or else you can try to substantiate these points which may make him to sit in ur org...
txs


As you are saying his performance is non questionable, then sudden removal of such a person might create fear and job insecurity with other employees and certainly will adversely affect work productivity.
If you can directly have talk with him and explain that his fault get noticed but, just ignored beacuse of contribution he gave in organization and if he stopped this things then he has good prospect in organization and make him understand the situation ; It might work to some extent But,surely does not mean that problem get solved.
So, Give him warning in mild words first Observe him and inspite of your warning he continues the nuisance then first issue memo for said purpose . If problem continues then nobody can question you if you terminated him also.
But, Donít wait for talk with him and give chance to continue his nuisance in organization.



Integrity and probity are the virtues that cannot be bartered with. If some chap uses his performance as bargaining chip then this cannot be condoned with. If you turn cold shoulder to dishonest activities of this person, others will also follow suit. One fine day, it will ruin your company.

Let me give example of our country. Now a days there is lot of talk of corruption. However, everybody knows well that it is Pandit Jawaharlal Nehru in whose rule the seeds of corruption were sown. He should have been very firm but he never was. This one time seed has grown into a big tree now. Rather than giving us shadow, this tree is scorching us.

When it comes to taking firm action against unethical practices, we Indians develop cold feet. Take the case of America. For doing insider trading, they have sent Rajratnam to the jail. On the other hand when securities scam was broke out in 1992, "big bull" Harshad Mehta did not go to jail at all. He died because of natural death.

As far as dishonest working is concerned, is it your perception or you have firm evidence? I recommend thorough investigation before coming to conclusion of any kind. May be that some senior management personnel may be involved at the back end. This person could be working in the front.

Ok...

Dinesh V Divekar

Beware of false knowledge; it is more dangerous than ignorance.


If there is genuine problem due to which employee had falicied, try to solve that and if habitual, do not delay to take action against. You can train employees for better efficiency but you cannot change habit of dishonesty. You should not give message other that good dishonest employees are no problem.
Tariq
Shafi Shoes


Depends on what you mean by dishonest. If it is not logging in/taking unauthorised leave etc. These can all be worked on with direct face to face interaction.
If it is something that is more serious then take immediate and firm action. If you do not you risk loosing other staff for the sake of one good(?) worker. This is debatable if he has been dishonest.
Keep it clean and lead by example.
Regards,
Tresa



The entire process must be carefully planned and thought through; there is no room for clumsy handling of such a grave issue. When you say the employee is hardworking; it is evident that he already has some work ethics in place. A professional probe into the reasons of his dishonesty, confrontation with evidence, and defining a time frame by when he must prove himself otherwise in the course of his duty may help channelize his intelligence towards becoming a successful overall performer.

However, after having tried all of the above, if the employee still fails to deliver; no matter how productive and capable he may be, you definitely would have to show him the door. Then your action on the matter would not be sending down wrong singals to the rest of the employees; rather, your inaction would cost your company a great deal of harm in the long term.

This is a sensitive issue and I am glad you have turned to a forum for advise and guidance. We wish you all the best as you manage this issue tactfully.


With reference to your query posted in citehr, please answer the following questions and hope this will help you to solve your issue.
1) In what sense you had declared one of your employee as DISHONEST.
2) Is he one of the reason for your organisation incurring any kind of loss?
3) Did he try to demotivate your employees?
4) Did he deny to execute or carry on his roles and responsibilities in time?
5) Did you had discussions trying your best to counsel for a better change in his attitude, behaviour and nature?
6) Did you study are the factors associated with his DISHONESTY as pointed by you?
Please study your employee with a psychologist mindset and try your best to help to change by realizing his mistakes. We human's are not 100% perfect, as we do have some deficiencies which can be rectified.
With profound regards



I think you can also try this. If you initiate a disciplinary enquirybagainst him, it will be a process of introspection on his part which may improve his behaviour and then you can get him away with minor punishment and still retain him.

This discussion thread is closed. If you want to continue this discussion or have a follow up question,
please post it on the network
.
Add the url of this thread if you want to cite this discussion.