Rdsyadav
Educator, Management Consultant & Trainer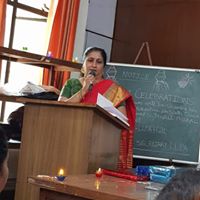 PRIME SPONSOR
-
FACTOHR
- Payroll Software with GPS Enabled Attendance, Travel, Performance Management, HRMS.
Explore Features

Thank you,

Cite.Co
is a repository of information created by your industry peers and experienced seniors sharing their experience and insights.
Join Us and help by adding your inputs. Contributions From Other Members Follow Below...


What you have asked is a horrible! I am appalled at your query.

Punishment is executed till the death of the employee. Employee gets terminal benefits based on the last drawn pay. It appears that you have not understood why punishments are awarded to the employee. Punishments are given to correct the behaviour and monetary deductions are not done to recover some amount. Forfeiture of the wages is expected to give financial pinch to the employee and this pinch is expected to reform the behaviour of the defaulter.

Since you have not apprised yourself with the principles of justice, your focus is on recovery of the amount rather than punishment itself. Your query is akin to hanging dead body of a convict who is awarded capital punishment but dies while serving jail term (before his execution). Please note that India is a democratic sovereign republic and principles of natural justice are of paramount importance. Decisions are not guided by vindictiveness, malfeasance or whims of the ruler.

If the employee was awarded some penalty or fine and before recovery of the penalty, if the employee had died, it would have been proper to deduct the penalty amount from the terminal benefits. In this case, death does not diminish the liabilities. However, in your case, the annual increment of the employee was stopped for two years. After the death of the employee, he will not be on the rolls of the company, even then also how can you hold him liable to pay to your company? If your formula of continuation of punishment after death is applied then rather than dead employee, his kith or kin (nominees) will be punished. What type of jurisprudence will it be?

Your query shows that psychological trait call empathy is missing in you. This could be detrimental for your career growth or in personal life as well!

Thanks,

Dinesh Divekar


Here I explaining the case, A tamilnadu government employee (Mr.x) joined in job on 14.12.1991as junior assistant and he got a promotion as assistant at 1997 onwards. And then he got a 17(b)chargers for patta transfer and then get a punishment - stoppage of two years increment with cumulative effect on 13.08.2014. His annual increment is every January.
we can stop the 01.01.2015 increment and Mr.x died on 24.05.2015, so we cannot stop the second increment(01.01.2016), in this stage we calculate the balance punishment amount i.e, 25.05.2015 to 31.12.2016 and recovery from their family or not.
If not recovery from the family please give me the government order or any other tamilnadu judgement copy for this. So that i can help those family.
Because of this clarification, they cannot send the pension proposal.
Thank you,



I do not belong to the state of Tamil Nadu therefore, it will be difficult for me to provide any Government Order or case law to this effect. Nevertheless, after the death of the employee once the employee's disbursal of the salary itself is stopped then where is the question of the recovery of future dues. This is ridiculous.

As I have written in the post of citehr, the dead employee's terminal benefits will be calculated based on his last drawn salary.

I recommend wife or nominee of the dead employee to put up application to the senior authority of his office. If they remain intractable then he/she may approach Secretary, Ministry of Labour, Govt of Tamil Nadu.

Take the case of former Chief Minister of Tamil Nadu. In the Disproportionate Asset (DA) case, she was found guilty. However, before verdict of the court, she died. However, since she was died, court has not awarded any monetary punishment. Supreme Court came down heavily for amassing illegal wealth but court just stopped at that. I have given this example for you only and do not give example to government officials.

Thanks,

Dinesh Divekar

The query raised by you has been attempted to be answered by senior members of citehr, but it appears that you are not satisfied, hence further clarification is being given by me as under:
2. According to your statement, penalty of stoppage of two annual increments with cumulative effect was imposed upon an employee on 13.08.2014. You could stop only one increment on 01.01.2015, and subsequently the employee died on 24.05.2015. Hence, the second increment could not be stopped.
3. Your question is whether at this stage, you can calculate the balance punishment amount and recover it from the family before giving the pension or not. If not recoverable from the family, you have asked for the government order/ or any other judgement order, to this effect.
4. Regarding your query it may be noted that Government cannot implement the penalty order beyond the date of death, because the disciplinary proceedings stand abated on the date of death of the employee. this is the Fundamental Rule. Decision on this subject i.e. abatement of disciplinary proceedings are available in Swamy's FR-SR compilation, as well as specified in Vigilance Manual of CVC. Since, the disciplinary proceedings stand abated on the date of death, therefore second increment cannot be stopped.
5. Further be informed that recovery of equivalent amount of stoppage of one annual increment can not be made from either from the pension or from the family of the deceased, because stoppage of increment does not come under the category of government dues. Only the government dues can be recovered from the terminal benefits i.e. gratuity or leave encashment.
6. Please note that penalty order did not impose punishment of recovery of any financial loss caused to government. Therefore, this case does not fall under the category of recovery of government dues
7. In case you are still not satisfied, please refer your case file to Legal Section of your department for advice.
for any further opinion/query you may contact at
Mobile no. 09818680671
Regards
C.M. Lal

which post do you hold? Is it your senior who is insisting for recovery or is it you? Your language has so many mistakes, therefore I was forced to ask.
Your query has already been answered nicely here. With death, all personal penalties come to an end- ethically, morally, financially, legally.
Damages done to the company are also not recovered with formal competent orders of the authority.
So just got curious, whose idea is it to recover?
Neela Prasad, Chief Manager( HR)


Former TN CM Ms Jayalalitha died before the judgement it is ok,
But in this case the employee died after half execution of punishment. so that till now i get confused
as per the Government order 113, dated 02.08.2006, we should recovered the monetary benefit value before the employee get the pension (they do not mention either VRS ,retirement or family pension)
date of death the abatement of disciplinary proceedings in fundamental rule but i didn't get that, So that i am asking any government order or the FR rules you have please give me
Thanks sir,

PRIME SPONSOR
-
TALENTEDGE
"Interactive Anywhere Learning". Executive courses from top reputed institutes like IIM, XLRI, MICA.
View Courses