Cite.Co
is a repository of information and resources created by industry seniors and experts sharing their real world insights.
Join Network
A new survey organized by LinkedIn and the Adler Group opens for us some fascinating facts about what will make an employee want to stay longer in your company varied by country, age and sex. Here are the results:
Across the 18,000 employees in 26 countries that were asked, 72% actually feel somewhat satisfied or very satisfied with their jobs, 14% neutral, and only 14% dissatisfied, but surprisingly are most of them (85%) still consider a career change.
Top 3 motivators for an employee to accept a new job offer are:
- Better compensation and benefits.
- Good work-life balance.
- Opportunities for advancement
Conversely, people donít seem to care in these conditions in a new job:
- Job title.
- Office location
- Relationship with managers
Source: Employee satisfaction facts
How do you think about these results? What do you care when changing your job?
From Vietnam, Hanoi
Hi Bhkti,

Let take a look at the meta-analysis by Tim Judge and his colleagues in 2010. The authors here reviewed 120 years of studies to synthesize the findings from over 90 quantitative studies. The results show that the association between wage and job satisfaction is really weak. There is less 2% overlap between pay and work satisfaction levels. Also, the correlation between pay and pay satisfaction was just slightly higher, showing that employee satisfaction with their salary is mostly independent of their actual salary. When the authors conducted group-level comparisons, they find out that employees that earn wages in the top half of their data range the same levels of job satisfaction to the employees that earn wages in the bottom-half of the data range. According to the engagement research on 1.4 million employees from 192 organizations in 49 industries and 34 countries by Gallup Ė a U.S research-based, global performance-management consulting company, there is no considerable difference in employee engagement by pay level.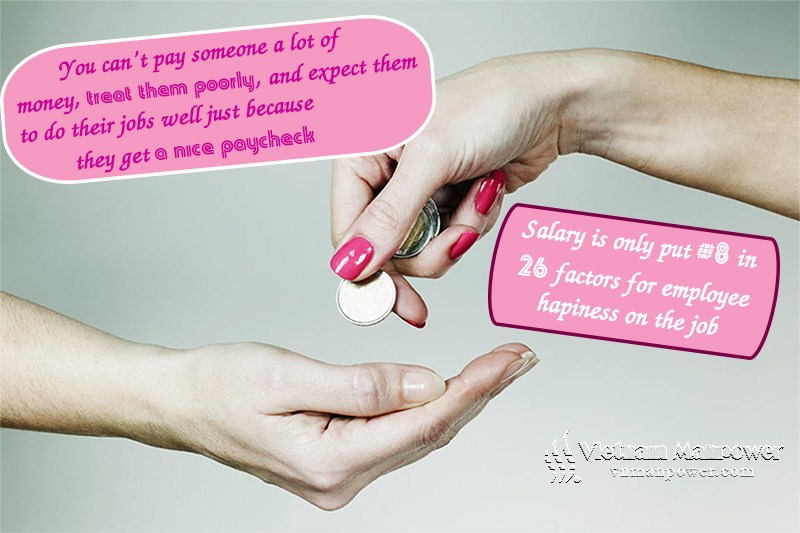 You might be interested in Employee satisfaction's facts to help keep your best staff

and Employee motivation isnít always good
From Vietnam, Hanoi
This discussion thread is closed. If you want to continue this discussion or have a follow up question,
please post it on the network
.
Add the url of this thread if you want to cite this discussion.