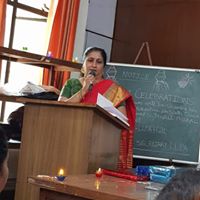 Tajsateesh
Recruitment/talent Acquisition, Career Counselling
Cite.Co
is a repository of information created by your industry peers and experienced seniors sharing their experience and insights.
Join Us and help by adding your inputs. Contributions From Other Members Follow Below...
Dear professionals,
We are about to give suspension order for an employee who is being continuously involved in spec-error. He had been given warning letter for the same matter several time, (which involved immense wastage of money and disrepute from valuable customers) but he is not changing his attitude towards his work. After deliberate consideration the management has decided to suspend him from service for 3 days. Now my question here to professionals is, How to proceed legally, if he fails to accept/obey the suspension order, because our employees are being induced by un-recognised union.
Warm Regards,
Madan

The method of serving notices/orders is very much elaborated in various "IR" related books under section of

"Holding Domestic enquiry".

Here in your case, the issue is regarding your assumption whether the employeeconcerned will accept/or

reject the suspension order.

Please make out the suspension order in your company letter head, duly signed by the competent authoority

and serve the original letter to him and ask him to acknowledge the duplicate coy of the letter, which you may

keep for your record purpose. You can serve the notice, in the presence of his department manager/supervisor

and a representative from HR or Legal deptt. If the person refuses to acceptthe communication, endorse the same

on the letter and obtain signature(s) of two witnesses and record the same in his personal file. Simultaneously,

a copy of the letter could be despatched through UPC and Registered Post Ack Due to his permanent address

and last known present address of the employee. Another copy could also be exhibited on the notice board of

the company. Also mark a copy to Main Security gate of the company and instruct security to not to allow the

person inside the factory/establishment.

This is the way you shoulld handle the situation.

Thanks

R K Nair

Dear Nair Sir, Thanking you for your valuable suggestion, your timely advice is really a precious help to me.. Once again thanking you, Warm Regards, Madan
Dear Sir,
The procedure of suspension from the services as a punishment should be based on the findings of enquiry officer. First issue the charge sheet and then order for a domestic enquiry to prove his charges by giving him a chance to defend his case and get the findings of ther EO and then management can decide the gravity of suspension. Before suspending a person, issue him a show cause notice calling his explanation, if he fails to submit his explanation and his explanation is not satisfactory, then you can issue me a suspension order. Assumption of acceptance or not a matter. The procedure of issuing suspension order is well explained by Mr.R.K.Nair, in his letter, in third para and follow accordingly. Please see that whatever action is being initiated against the employees should be within the laws.
I hope it stands clarified to you,
Adoni Suguresh
Sr.Executive (Pers & Adm) Rtd
Labour Laws Consultant

Any worker can be suspended pending enquiry if his presence in the company is likely to cause any damage to the company or the business or officers or co workers.

But you have to spell out the charges and correlate it with the misconducts found in the model standing orders or your certified standing orders and at the end of it you can mention that " Since your continuing presence in the company is likely to cause any damage to the company /business / officers /r co workers.

Choose anyone which is related to the charges and suspend him.

Remember to deactivate his attendance card.

What has been stated by our colleagues like trying to serve it in the presence of witnesses may not be necessary. If he does not receive the charge sheet it will become another misconduct for which another disciplinary action can be initiated.

If he does not receive then just make an endorsement below the chargesheet stating " you were served this chargesheet on (date) at (time) by (name of the officer) but you refused to receive the same and hence it is sent by RPAD"

RPAD means registered post with acknowledgement due

These days such mail can be sent by courier, which will be faster and the Proof of Delivery (POD) can be sought from the Courier Agent as record.
Hello N.K. Sundaram, I think PoD of Private Couriers is NOT legally valid. Only Registered post OR SpeedPost is legally valid — to the extent I know of. Rgds, TS
Mr.Sateesh,
May be, am not too sure. However, many of the postal services and products are going off like the good old telegraph... One fine day RPAD may also become extinct... Money Order system throough Post Office has undergone sea change. So one fine day POD through private courier system may become valid, or else, why Blue Dart / DHL insist on mobile number of person receiving courier , telephone number etc... Am not sure... Anyway, thanks for enlightening me.
Best wishes

If such suspension orders from services, which may lead to ultimate termination and the
employee concerned challenges such decision of employer in Court, it is suggested
to produce proof of despatch by postal authorities, rather than Courier agent- which are
well accepted documents in Court of Law.
It is also agreed that in the current era, communication by e-mail also shall be
treated as documents by Court.
Thanks
R K Nair

As Mr. Nair mentioned above, even Email communication is legal now. That is why, in e-mail etiquette programme, we insist on the users that any communication that leaves your IP address is legally valid and one can be proceeded against, in the event of something incriminating is sent.
This discussion thread is closed. If you want to continue this discussion or have a follow up question,
please post it on the network
.
Add the url of this thread if you want to cite this discussion.