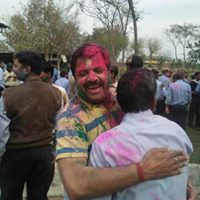 K.SYadav
Management Cum Labour Laws Consultant
Sachitra6
Transactional Analysis, Hr Trainings
Cite.Co
is a repository of information and resources created by industry seniors and experts sharing their real world insights.
Join Network
Dear All, Please go through the ppt ..and provide me with a feedback, Regards
Hi
Do every day Yoga & Meditation for health, wealth & spritual progress. It is the outstanding result orientd practice to avoid any stress etc.
Please do not manage the stress but do practice to good bye stress----

Hi It is useful for mange stress Akshay
Hi Todays Thought :- "No one tortures you except your own nature. Make your nature sweet and loveable; then win the love of all"
Congratulations Arpee on your effort. Am attaching some additional stuff on the same. Cheers
Dear Arpee and Akshay Really thanx for your postings , these are good Regards Aisha Naeem Senior Consultant Business Development Syst3ms +
Dear Arpee,
Thank you, its very interesting and nice presentation.
it is very useful to me and one more request if you have any other ppt related to hr means share with me.
with regards,
BALAJI.B
+91 9944301858

Hi Today's Thought "Man knows the comma and full-stop of language. He knows not the full-stop of negative thoughts".
Very GOOD !!!!! Stress is very important and inevitable factor particularly at senior level positions and also in I T industry. Your PPT certainly provide very good information. Particularly, making reference to our Brain-structure and impact of stress. Compliments to you for meaningful contribution. Keep it up. ..... V. K. Bhide
Hi,
good subject and excellent work, would add just one thing, to handle job stress try positive attitude towards job, I know it is difficult some times, but if you try it, it takes all the job stress with it, positive attitude is the the key to success.
Best regards,
Tariq Pervaiz,
TRADEKEY

This discussion thread is closed. If you want to continue this discussion or have a follow up question,
please post it on the network
.
Add the url of this thread if you want to cite this discussion.