PRIME SPONSOR
-
FACTOHR
- Payroll Software with GPS Enabled Attendance, Travel, Performance Management, HRMS.
Explore Features
The success story of 'Dr Heart'
Y
ou have seen him on most TV channels, the charismatic and earnest Devi Prasad Shetty, one of India's most celebrated cardiac surgeons and messiah of the poor.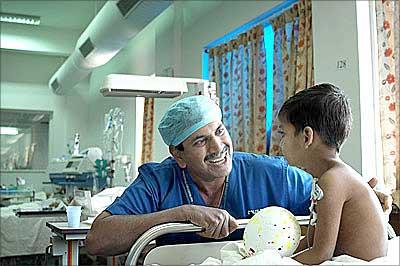 Image: Dr Devi Prasad Shetty. |
Photograph: Narayana Hrudayalaya Website
Usually to be found in surgical gown and cap - he and his team perform a remarkable 24-28 surgeries daily at his showpiece Narayana Hrudayalaya Institute of Cardiac Sciences in Bangalore - the good doctor has a fan following that extends across the subcontinent into the Middle East and Africa.
India's Dr Heart is especially popular with children and the parents of newborn babies who get special care in Narayana Hrudayalaya's paediatric section, which is probably the largest in the world.
If you are a businessman, you have probably read the Harvard Business School case study on Dr Shetty that extols his method of providing high-quality heart treatment to all comers through a relentless drive to cut costs.
The philosophy of the family-owned 1,000-bed Narayana Hrudayalaya, valued at Rs 1,600 crore (Rs 16 billion), is unique: if you can, you pay; if you cannot then you're treated for free.
Together with his older hospital in Kolkata, Narayana Hrudayalaya's 28-32 surgeries account for 10-12 percent of the total cardiac surgeries done in India, a figure that he would like to push up to 70 surgeries in the next five years</B>
N
umbers are an obsession with Dr Shetty. He mulls over them, ruminating over their hidden potential, calculating the myriad possibilities for leveraging their strength. How do you provide quality healthcare to 1.2 billion people when the basic infrastructure is missing, the skilled manpower is woefully inadequate and costs are spiralling?
Dr Shetty, sometimes more dapper in suspenders and tie, a style that he picked up during his stint at Guy's Hospital in London, is turning serial entrepreneur.
Innovation is the solution, according to the man who has come up with some remarkable schemes to bridge the health deficit in the country.
Five years ago he designed Yeshasvini, a cut-rate insurance scheme for farmers in his home state, proving for the first time that one could, with some government backing, run a health insurance scheme for as little as Rs 10 a month per person.
Last year, he was quick to spot the huge potential in a small head of expenditure in the West Bengal government's education budget and turn it into a healthcare bonanza for a couple of million people outside the pale of insurance.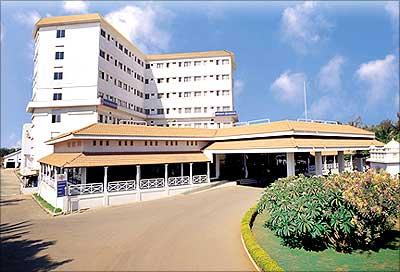 Image: Narayana Hrudayalaya hospital.
|
Photograph: Narayana Hrudayalaya Website
F
our hundred thousand school teachers employed by the West Bengal government were getting Rs 100 as monthly medical expenses. "What can you buy for Rs 100? Not even a course of antibiotics," points out Dr Shetty in his engaging, earnest way.
"But since the total payout added up to a tidy sum, he presented the government with a scheme in which the teachers' medical allowance is paid to the National Insurance Company, a public sector general insurance firm based in Kolkata, for insuring them and their families for a cover of Rs 1,60,000 annually.
"Without the government spending a single extra rupee, close to 2 million people are getting good health facilities," says Dr Shetty.
The law of large numbers, according to Shetty who uses an assembly-line approach to healthcare, is the only way to bring about a revolution in healthcare in this country where everything is in short supply -hospital beds (1.5 per 1,000 population against a world average of four), doctors (0.5 per thousand against 1.6) - and where the burden of rising costs is borne by the people
O
ver 70 per cent of the estimated Rs 1,50,000 crore (Rs 1500 billion) spent annually comes out of people's pockets, pushing large numbers into destitution and poverty.
To address this, Dr Shetty is turning serial entrepreneur. The grand plan is to set up health cities in several state capitals with training institutes for medical manpower. Health cities are large complexes that will house different specialties for treating major diseases, and both state governments and private equity have bought into Dr Shetty?s vision for transforming the health landscape of the country.
While AIG and JP Morgan have pumped in Rs 200 crore each for a combined 25 per cent stake in the holding company Narayana Hrudyalalya Private Limited, state governments have offered large tracts of prime property in Ahmedababd, Jaipur, Bangalore, Bhubaneswar and Dehra Dun.
This is by far the most ambitious expansion drive among private players in the country with Dr Shetty expecting to add 20,000 beds in the next five years.
Market sources say this is one of the biggest deals to have taken place in the hospital sector where a number of private equity funds and foreign hospitals have been scouting for good buys in the rapidly expanding private healthcare industry.
"It says a lot for Dr Shetty that AIG and JP Morgan have bought into a model that targets the lower end of the profits and is not focused on large profits," points out a private investment analyst.
T
he health city projects are tied to health insurance schemes and a sizeable chunk of their clientele will be the insured. Dr Shetty says it is important that private companies ramp up as quickly as they can. The current players, he says, are too small and unless a group has at least 20,000 beds, the margins cannot be reduced significantly."The largest player has a turnover of not more than Rs 800 crore (Rs 8 billion) a year. Even manufacturers of automobile spare parts have twice this turnover. Unless you build a company that can bring in business of Rs 10,000 crore (Rs 100 billion) a year, you cannot make a dent on the prices of disposables and drugs which account for 30 per cent of costs."
Narayana Hrudayalaya spends Rs 30 lakh a month on just sutures, which provides some idea of the costs that Dr Shetty is talking about.
The launch pad for his health juggernaut is Bangalore where the Narayana Hrudayalaya Institute of Cardiac Sciences already boasts 1,000 beds along with a 250-bed orthopaedic hospital (Sparsh) and a 300-bed Narayana Nethralaya eye hospital.
Construction is in full swing at the 1,400-bed cancer hospital, partly promoted by Biocon boss Kiran Mazumdar Shaw, which is expected to open in three months, making the complex on Hosur Road the largest private medical hub in the country with close to 3,000 beds.
N
arayana Hrudayalaya has agreed to manage two of their hospitals in Jamshedpur while working on a health city partnership with the steel giant. Jamshedpur is expected to be the testing ground for another of Dr Shetty's experiments with the entire population to be covered for health risks.
Is the good doctor becoming asset-intensive in a sector where the return on capital across the board is notoriously subpar? Says a private equity manager: "The smart way to grow is to have a proper balance of capital assets and management contracts. If Dr Shetty is more focused on assets, that would be risky."
Dr Shetty, however, is proving to be quite astute. Most of the recent deals have been for management contracts, and even with the first health city projects, he has worked out arrangements where "the builder builds the hospital according to our requirements and rents the property to us. Our job is to equip the hospital and manage it. The builder gets a fixed rent and in some cases, a percentage of the revenue."
For a man who is all heart, Dr Shetty is showing a remarkably good head for business. That's a quality he will need to hone as efficiency norms are tightened at his hospitals with the infusion of private equity. There are reports that the Bangalore hospital is upping rates to meet revenue targets. Will head prevail over heart?
Source
www.Rediff.com
Cite.Co
is a repository of information created by your industry peers and experienced seniors sharing their experience and insights.
Join Us and help by adding your inputs. Contributions From Other Members Follow Below...
PRIME SPONSOR
-
TALENTEDGE
"Interactive Anywhere Learning". Executive courses from top reputed institutes like IIM, XLRI, MICA.
View Courses