Madhu.T.K
Industrial Relations And Labour Laws
PRIME SPONSOR
-
FACTOHR
- Payroll Software with GPS Enabled Attendance, Travel, Performance Management, HRMS.
Explore Features
Cite.Co
is a repository of information created by your industry peers and experienced seniors sharing their experience and insights.
Join Us and help by adding your inputs. Contributions From Other Members Follow Below...

Although you have put up a very simple question that what is a "Employer Brand" ?
In my opinion you cann't decide the "employer brand" by just the reputation of the Organisation having in the market.
It can be judged only when you are working with the Organisation.
It depends upon the Standards of system company is having and the also Ofcourse as rightly said by Mr. Madhu is "Industrial Relation".


most imp part of employer branding is linked with Employees of the that company.
i.e. image of company in the mind of existing employees and external potential ppl.
Employer branding shows very strong link b/w marketing and HR, here two professional work together to make company really sucessful not only interms of good marketing, advertising, and selling but also showing and interms of Company's value, belief, culture and Recruitment, care for employees.

so, in simple terms: defination of employer branding can be,
Employer branding is the development and communication of an organization's culture as an employer in the marketplace. It conveys your "value proposition" - the totality of your culture, systems, attitudes, and employee relationship along with encouraging your people to embrace and share goals for success, productivity, and satisfaction both on personal and professional levels.

how do you agree with me on this sentence?
Employer Brand strategy is to "position, differentiate and communicate all practices related to people management and development in a certain organization to deliver a branded employee (employment) experience"?
and
we are conducting a marketing research on the topic, hope you guys will visit the link to feedback:
https://www.surveymonkey.com/s/EBSasia2014

If I have to answer this in nutshell, I would say, How do your key stakeholders view your Employer Brand, specifically current and perspective employees and what can be done to promote your business as a great place to work?
Attracting, hiring and retaining people are the biggest challenges for the talent management of the day. For this to happen it is equally important to develop value propositions for jobs to attract talent sufficiently. Employee value proposition means creating a balance of rewards and recognition in return to an employee's performance at workplace and thi sits on top of your employer brand (Branding exercise). It is a people centered approach that is directed to existing employees and integrated manpower planning strategies because it comes from existing employees themselves. It must be original, unique, compelling and strategically directed to a talent pool.

Employer branding has played an increasingly important role in attracting and retaining talent. A strong employer brand means that the organization is a desirable place to work in the perceptions of current and potential employees.
A recent research by Business Insider showed that about 51% of companies have a working employer brand strategy in place. According to LinkedIn Global Recruiting Trend 2016, 59% of talent leaders are investing more in their employer brand compared to last year.
Why employer brand matters?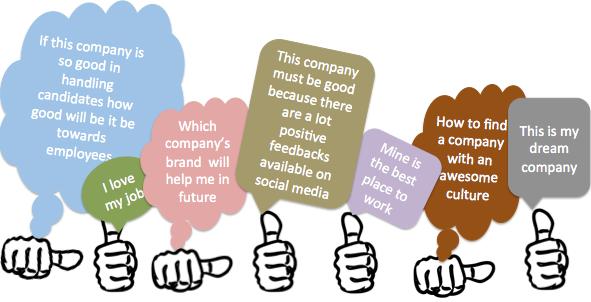 More than attracting talent, a strong employer brand brings a lot of benefits to your organization:
- Make your company win in global talent war
- Boost current employees' engagement
- Retain top performers; reduce the cost of employee turnover
- Increase satisfaction of customers, shareholders and other partners
Employer brand is becoming a competitive advantage to differentiate companies. Google, Microsoft and American Express are 3 out of 10 best multinational workplaces for 2015 ranked by Great Place to Work. Google also win the No.1 position in the list Fortune's 100 Best Companies to Work for 2015.
Who should be in charge of employer branding strategy?
A successful employer branding strategy needs the key roles of C-level executives, human resources and marketing. Of course, it never works without the proactive involvement of current employees.
In every perspective, employer brand must align with the organization's culture and core values. To get started, it requires the orientation of top level managers in the organization's hierarchy. The core values are translated into the company's policies, strategies and daily activities of employees, who are the most effective brand ambassadors of each organization. Put it simply, employee experience is the key of employer brand. The direct participation of human resources in every single stage of employee lifecycle is the reason why HR plays a crucial role in employer branding.
Read more at
Employer Branding: A Fashionable Trend or the Future of HR
PRIME SPONSOR
-
TALENTEDGE
"Interactive Anywhere Learning". Executive courses from top reputed institutes like IIM, XLRI, MICA.
View Courses