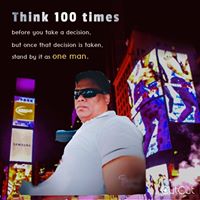 PRIME SPONSOR
-
FACTOHR
- Customised Payroll, GPS Enabled Attendance, Travel, Performance Management, HRMS.
Explore Features

one of our employee went for a leave as he was ill but he has not joined back. its almost a month over. we tried to call him, bt he didnt take the call. last week our another employee met him and he informed that he got a job some whre else. now our management wants me to give him a letter mentioning he has been discharged without notice,
CAN ANY ONE HELP ME IN DRAFTING THE LETTER...ITS REALLY URGENT......

Cite.Co
is a repository of information created by your industry peers and experienced seniors sharing their experience and insights.
Join Us and help by adding your inputs. Contributions From Other Members Follow Below...

Please define a leave policy in your company. When ever some employee goes on uninformed leave a warning letter should be posted to him within a particular time frame, may be 5 to 7 days. And in that warning letter clearly state that person need to get back immediately on this. If there is no response from the employee then a letter of termination should be sent in 10 to 12 days time frame. Time frames can be defined by the management and make sure that all the employees should be aware of this policy.
Thanks
Jasmine


1. Can I issue a letter to him as a absconding from duties
2. pl send a letter format to issue notice to employee.
3. He has a loan outstanding agaisnt his name. How deduct.
4. Kindly send formats for the same
Thanking you
Yours truly
xyz


Practical example:An employee absconded on 21st Nov, company has sent few letters but no response till now. What to do?
1. Do we need to pay PF for that employee till 21st Nov or till 30th Nov?
2. Since there is no response from an employee, do we need to pay PF for December too? if not, what date we have to mention for date of resign.
Please confirm at the earliest.

PRIME SPONSOR
-
TALENTEDGE
"Interactive Anywhere Learning". Executive courses from top reputed institutes like IIM, XLRI, MICA.
View Courses